Customers can Log in here – Alarm.com Customer Login

"We believe that security systems should be something that is easy and fun to use. That's why we chose Alarm.com as our go to solution.."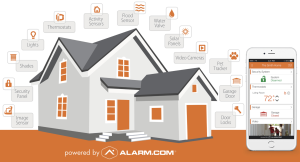 Go!Control Control Panel
Custom Wired Solutions offers our customers the latest and most advanced security systems and home management solution in the industry. Go!Control, the first all-in-one security and home management system.
The Future of residential home security and home management is NOW!
Smart Doorbell Camera

GoControl Smart Doorbell Camera is the state-of-the-art video doorbell with weather-proof and hardwired design! See or speak with anyone at your door securely… right from your smartphone app! Anywhere. Anytime.
GSM (cellular) radio
The most reliable communication option available in the industry.  No more concern with cut phone lines or the elimination of residential phone lines altogether.
Integrated two-way voice
Go!Control allows the central station to listen in and talk to the homeowner when a signal is received.
Built-in Z-Wave RF Protocol
Customers can now control lighting, HVAC, and other Z-Wave appliances in the home right from the panel, smart phone or device.
Why Custom Wired Solutions?
You don't have to look very far to see a lot of change in the residential security landscape.

Custom Wired Solutions has responded to these trends and consumer demands using GO!Control the first self-contained security and home automation system. Complete with a color touch screen, GSM radio and Z-Wave chip, GO!Control is the most advanced system on the market. Through a partnership with Alarm.com, consumers can control their system from their smartphone or the Internet*!  We invite you to step into the future with Custom Wired Solutions.