"CustomWired Audio / Visual Systems Will Promote Your Business and Project a Professional Image"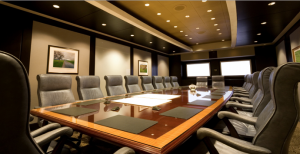 The success of many corporations can be attributed to efficient and effective business communications. First impressions make a big difference whether you're trying to attract funding, recruit a new hire or entice a new client.
Face to face meetings are still the most effective means of communication. Today, many of these meetings take place in rooms that are designed with AV systems and simple controls. Presentations are made on large screen displays with bright images where text is easy to read and comprehend.
Presentations and meetings often include others participate who join the meeting over IP networks. Utilizing High Definition 1080p resolution that makes it easy to forget that they are not physically in the same room..
Outfit your conference room or training center with cutting edge video solutions from LG and NEC that range from LED Flat Panel, LCD Panels and Plasma Displays to ceiling mount or rear projection systems. Implement an audio system with high fidelity sound that rivals concert halls.
Board and Conference Room requirements vary from simple projection and presentation facilities to fully integrated Video Conferencing solutions.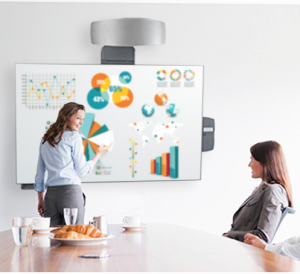 We specialize in:
Front Projection Systems
LED Screens / Video Monitors
Touch Panel Control / Automation
ClickShare and other source equipment
Audio Speaker Systems
Microphone and Lectern Systems
Motorized Screen, Controlled Blinds and Lighting
When you're not trying to make an impression on your audience, AV planning turns to considerations for managing the bleed of noise into adjacent areas.  Using Sound Masking (white noise) to give occupants much-needed privacy from their office mates by introducing appropriate levels of white noise into the office.
SMART products
SMART products have also revolutionized the way people learn, connect and collaborate. Innovative and easy to use, our products make classrooms, meeting rooms and workspaces interactive and collaborative.